Commission a Painting
A custom-commissioned painting is the perfect way to celebrate your unique style or commemorate a special occasion!
I want to bring joy and style to your walls. It's so easy to just run to a generic home store and buy a print of a painting that goes with your decor, even if you don't LOVE it. Even if it doesn't fully reflect your aesthetic. Even if it isn't exactly and heirloom you are proud to hand down. But with a painting customized to your colors, subject, and size you are prompted every day as you walk by the piece to stop and think of your happiness in this life. Not to mention, these are show-stopping custom paintings of all sizes to bring the ultimate in style and color to your living space that's also incredibly meaningful. Imagine looking up at that once sad, blank wall and now you see a large vibrant, stylish, and sentimental piece of art that reminds you of your own individuality! And THAT lasts a lifetime and for generations to come!
I use vibrant colors, loose brush strokes, and abstract pencil designs to capture the essence and personality the scene or abstract I am painting. My painting style isn't as concerned with depicting the EXACT subject as you see them in reality, but rather, capture the impression and mood they evoke through use of rich color and careful composition.
You will have an incredibly sentimental, uplifting, and stylish piece of heirloom art in your home decor collection you can proudly display anywhere in your lovely home (and show off whenever you have company over!).
DETAILS
I AM CURRENTLY ACCEPTING ONLY 5 COMMISSION SLOTS PER MONTH! Please fill out the commission inquiry form with your request. I will review it and get back to you as quickly as possible as I cannot accommodate every request.
Medium used: Acrylic, pencil, and pastel on cradled wood panels that are 1.5 inches deep (or, whatever it is you envision!)
Sides: The sides of the piece can be painted solid white, or any other color. If wooden, I can stain the sides. I can also continue the background color onto the sides. This is all your choice. If you are looking to have your piece professionally framed, then I will simply paint the sides white.
Hanging: I typically install hanging hardware and a hanging wire on the back of the piece so it's ready to go!
Shipping: I can deliver this personally if you are within 1.5 hours of the city of Boston, MA. Otherwise, this piece will ship with utmost care with tracking and insurance via UPS. Shipping/Delivery fees are included in the commission price.
Style: As you can see in the examples below, I paint in a very loose, colorful and fluid style. I specialize in florals, coastal scenes, and abstracts. If you are not a fan of my particular painting style; I am not offended and I'm sure you will find another artist whose style matches your own personal tastes! NOTE: I cannot change my style (it's like asking me to change my fingerprints), so pretty please do not ask. I do not paint portraits or nudes at this time.
Price List:
16x20.....$900-1100
18x24.....$1100-1300
24x30.....$1900-2100
30x40.....$2500-3000
36x48.....$4500-5500 (this size goes great over a standard couch)
HERE ARE SOME EXAMPLES OF MY PAINTING STYLE: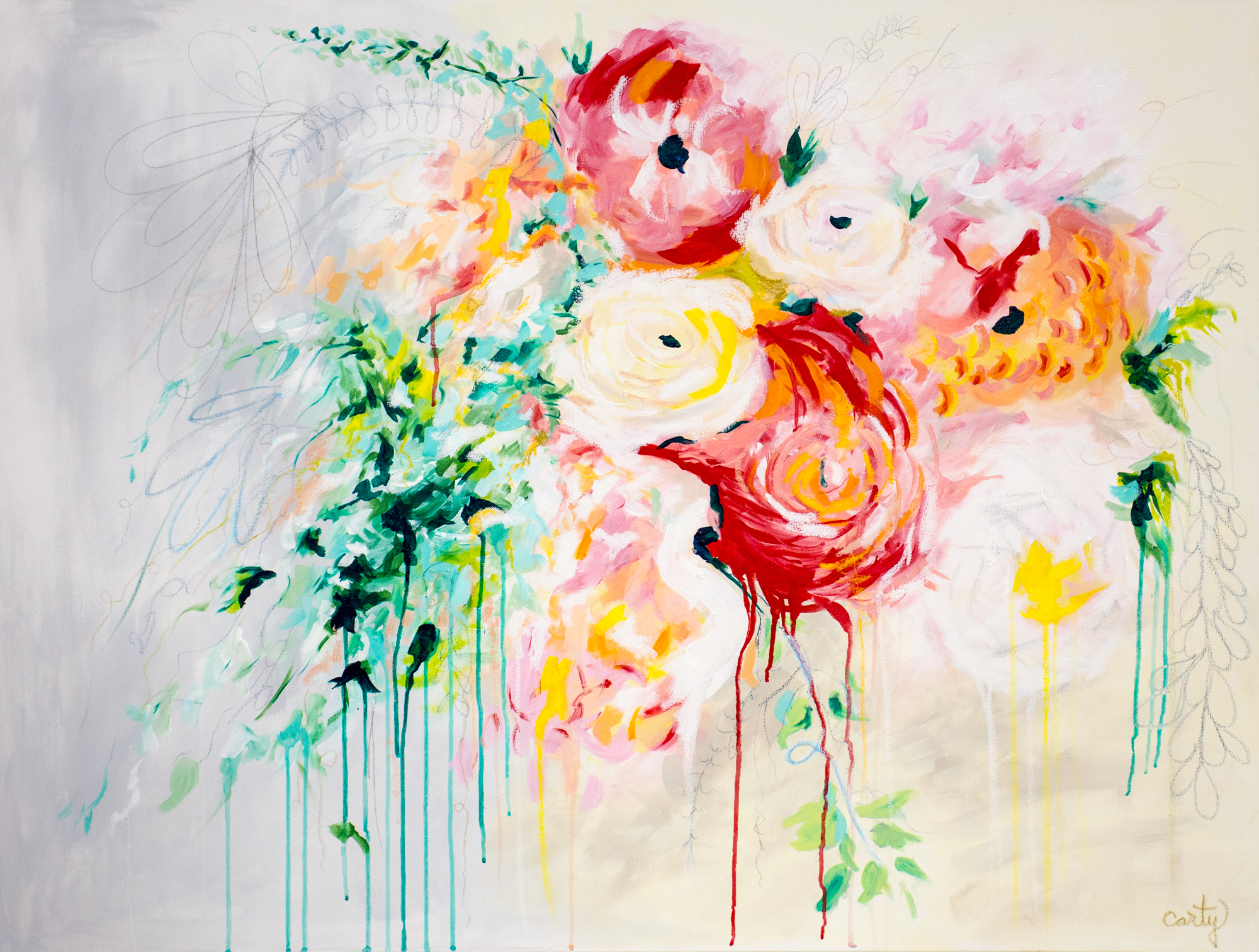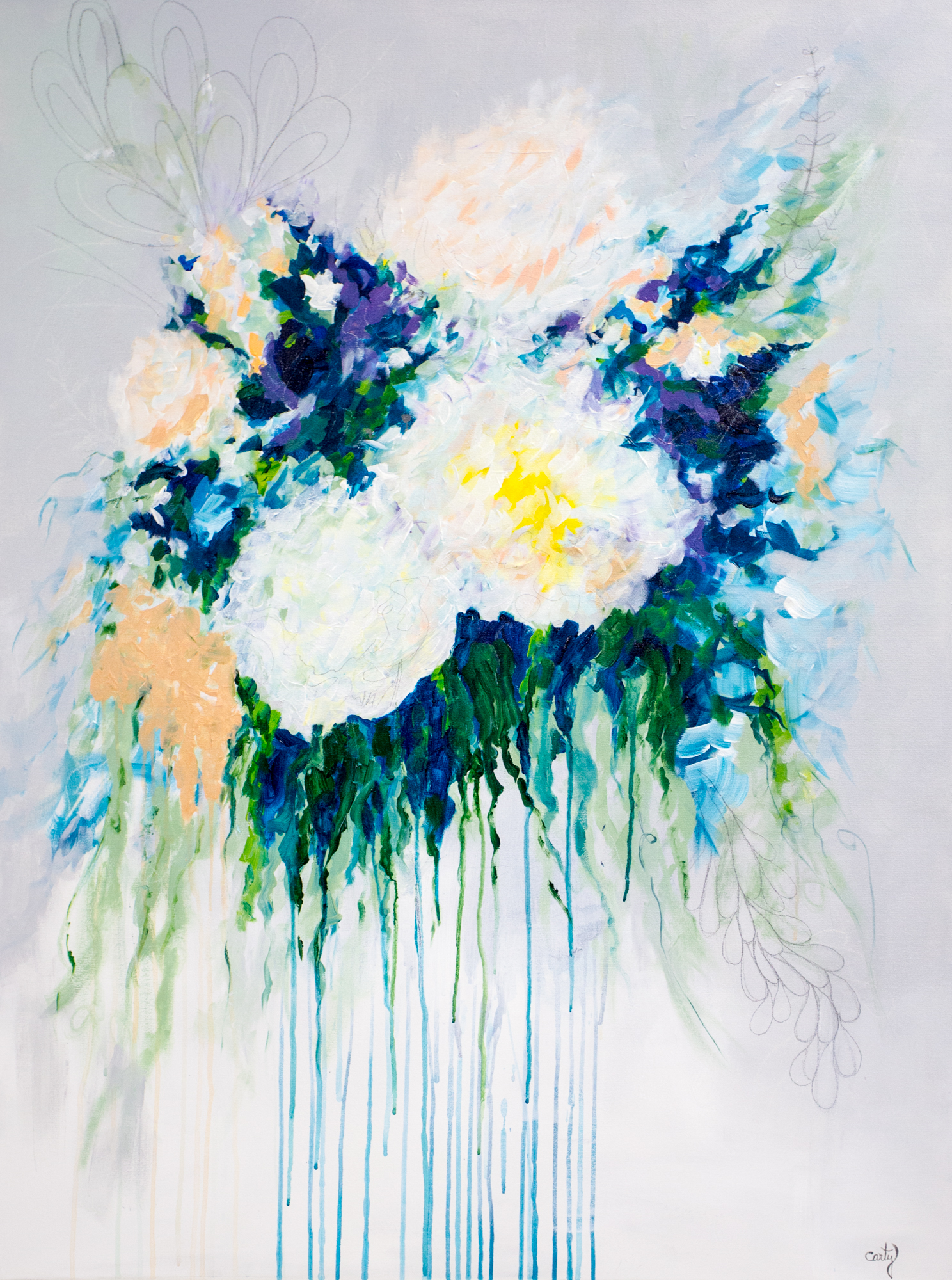 How We'll Work Together
1. Let's chat! Simply send me this commission request detailing things like the size of painting, where you are located, and what you're looking for. I will send along answers to any questions and a pricing quote.
2. If we decide to move forward with your custom commissioned painting, I request a non-refundable deposit of 50% of the final cost. This enables me to get the materials I need for your piece and cover my painting time. I will also need whatever photos/jpegs you have of your inspiration or ideas if you have some. This can be paid with credit card through a PayPal invoice I email you. (you do not need to be a PayPal member to take advantage of this).
3. I will create the painting and take photos of my progress as I go. I will email you images so you can weigh in with your thoughts. Remember, this is for you and I want you to LOVE it! Acrylic dries quickly and I can easily paint over it if needed!
4. Once I'm done, you will get a final image for your final approval. Once I get that approval, I will go ahead and invoice for the final 50% fee for the painting to cover my time and the shipping/delivery fees. This is also non-refundable. Again, I want you to LOVE your painting before we finalize everything!
5. Once the payment is in hand, I will then have your painting professionally packaged and shipped with tracking and insurance via UPS. If you live relatively local to the Boston, MA area, then I can deliver the painting right to you! (Or, you are welcome to pick it up here at my home studio and see where it was created!). If you have a special event happening and would like me to do an unveiling, I am open to doing that. This is a special occasion!
6. Unwrap and love your new piece of original art made just for you! (and hang it in a prominent location for everyone to Oooooh and Ahhhh over!)